I am more than a translator. My translation services come with lots of love for language, culture, and the people I work with. You!
After I finished my degree course in translation, I worked at a bilingual law firm for three years. However, I soon realized that something essential was missing – personal contact to people.
I am a people person who loves exchanging experiences and solving problems. That is why I specialized in certified translation of documents and certificates. It is most important to me to understand your situation and the story behind your request to find the best possible way to help you. 
During my first maternity leave, I started translating for friends. Due to the close and personal exchange, they got exactly what they needed to achieve their goals. I soon realized how much joy I found in helping people to get the documentation they needed in front of German and foreign authorities and offices. My business idea was brought to life.
Now, I am offering certified translations for you! For expats, who come to create a new life in Munich or somewhere else in Germany.
Let me tell you the story of how my certified translation helped a friend of mine fulfill her German dream.
My friend Ruth from Ireland is now able to work as a teacher at a German school, even though she thought she had to give up her dream of being a teacher when she moved to Munich and married her German husband. The Ministry of Education did not only accept her degree she is now allowed to teach to an even higher grade than expected.
Are you ready to tell me your story?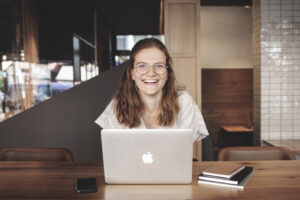 I'm Daniela, the owner and creator of  Kranzlator Translation Services. My goal is to provide you with high-quality translations of your documentation at a fair price.
I got married at 24.
I have 5 siblings.
I lived in Australia for one year.
State-certified translator for the English language (2016)
Duly commissioned, publicly appointed, and sworn in by the President of the first Regional Court Munich (2018)

Member of the German Association of Interpreters and Translators